Pelikan, Soennecken, and European Fountain Pens
German fountain pens are some of my favorites. German pens are generally black, conservative and known for their technical excellence. Soenneckens were a major competitor for Montblanc and many collectors believe they are the equal in terms of quality. The 1950s Soennecken 111 series of fountain pens are also some of the most beautiful and well made pens of their time. Pelikan pens are also excellent, simple but dependable, they deserve a place in eveyone's pocket or collection! All the German fountain pens are known for their excellent quality and durability. (Note: Click on the picture for a larger image)

Pelikan Shortcap 101N - Beautiful and rare pen. As you can see from the pics, it's in great shape. Has a BB nib, crystal clear ink window, and perfect tortoise sleeve with white highlights. The cap has the Pelikan logo on the top, a small amount of wear on the lower cap band. This pen is not just a standard pen with a short cap top, but the cap itself is longer than the standard version. Very rare. Sold.

Faber Castell Osmia pen in a rare color and pattern. I don't know how you describe this barrel pattern, but it is very attractive. The pen is marked Faber Castell, but the company had taken over Osmia and I saw an identical pen marked Osmia at the Chicago show. Has a 585 14K Castell nib that is Extra fine with a bit of flex. It is a button filler that has been restored and works great. The barrel and cap are celluloid while the setion and ends are black hard rubber. Note that there is an add on on top of the cap, gold scales with a green background - a lawyer emblem? $495

The Tower Extra Pen by Soennecken. This pen was produced for the Swedish market. This one is very unusual with an eight sided barrel and the delux cap band with Tower and a water motif proceeding around the cap. Piston filler in working condition. This pen ranks with the 111 Extra in quality. The nib is marked Tower 14K and a fine firm. $695

---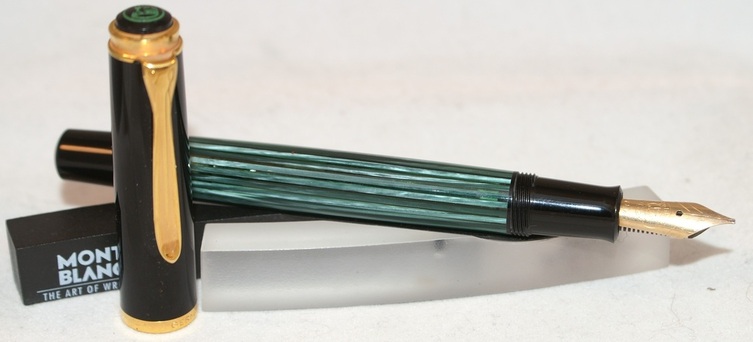 Pelikan M400, new pen with crystal clear barrel, with an OM flex nib (marked on the base of the nib)- $250
---
Pelikan, Kaweco, Big Ben (Listed left to right)
1. Pelikan 100n in black, Fluted trim, 14K nib, fine ball end. Sold!
2. Pelikan 100n in black, standard trim, CN nib in broad stub, very clear ink window (older green ink window), $375
3. Pelikan 100n in gray, fluted trim, crystal clear ink window, very flexible OM to OB nib, Sold
4. Pelikan 500, a couple of dings on the cap and end, fine to medium nib, clear barrel, $Sold
5. Pelikan 500 Set in very rare black, OB flexible 14K nib, very clear barrel, set. $550
Pelikan 400n from the 1950s, tortoise, OM nib, clear barrel, $375
6. New limited edition Pelikan in green, Two tone nib in fine, comes with box and papers, Mint, never seen ink. Sold!
7. Kaweco 854 SF, piston filler, restored. Very unusual gold filled cap top and blind cap, fancy cap band. 14K fine nib, Sold!
8. Kaweco gray candy stripe, #185. 14K two tone nib in fine with some flex. Piston filler in working condition. $225
9. Big Ben, I believe these were made in Denmark, piston filler with restored system, 14K nib in ef. Sold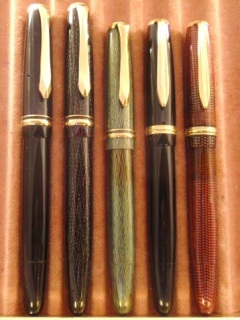 Sold and Archived: Soennecken 111, 222 These pens are no longer available but are listed for reference. There have been some questions regarding the 111 click filler and the #1 Export pen without the click mechanism (both 1 and 3 have this same mechanism
Soennecken pens are some of the finest pens that came out of Germany. These were produced in the 1950s and are some of the most sought after of the Soenneckens. From left to right,

1.Soennecken 1, an oversized pen that is the export version of the 111Extra. This pen is a piston filler (not click), has a beautiful and large OB nib. The pen has a few scratches from sitting in a desk -

2. 111 Extra, black with white/gray lines and highlights. Has a large OM nib and the famous click filler. Excellent to near mint pen.

3. 111 Superior, the next size down from the Extra. In green with a cross hatch pattern, the green is a little darkened in places. Has a large Soennecken 14K fine nib. This pen is a piston filler, but not the click filler.

4. 222 Extra - the second tier of the Soennecken line. The extra is the top of that tier, this pen is near mint with a fine flex nib, click piston filler.

5. 222 Extra in Red herringbone pattern, Fine flexible Soennecken 14K nib, click piston filler, the color has faded under the cap and around the ink window.