Parker Vintage Fountain Pens.
The U.S. fountain pen industry has some of the most historic and significant fountain pens, and George Parker had probably the biggest impact over the years. Beginning in the early 1900s, Parker took the lead in innovation and beauty. Many of the penmakers of the world made their living copying Parker pens. The button filler that we find world-wide was originated by Parker. The 1940 development of the Parker 51 created an entire industry of copycats, with fountain pen manufactures the world over racing to produce their own hooded nibs. Our collections would be sad indeed without at least a few iconic Parker pens. To Purchase, email me at daynix@aol.com

Parker 38 Snake (1910s)


The Parker Snake is the "holy grail" of pen collectors. Gold filled overlay with four emerald snake eyes. Near perfect pen. #3 Lucky Curve nib.
---
Parker 47 "Pregnant Parker" (1910s)


This is one beautiful pen. It has alternating pearl and abalone slabs on black hard rubber. Correct Parker Pen Company markings. This pen is near mint, no inscription on the indicia -#3 Lucky Curve nib.

---
Parker 33 RHR (1910s)


Extremely rare pen, gold filled overlay. This is actually a button filler! #3 Lucky Curve keyhole nib.

---
| | |
| --- | --- |
| | Parker Victory in Honey Marble, clear Parker Victory T.M imprint, Parker Pen N (for Newhaven) 14K nib that is fine and a smooth. A button filler and is in wonderful condition. Very rare, especially $575 |
Parker 51 Double Jewel with Sterling Silver Cap - really nice Parker pen with more unusual sterling cap - the pen has a new diaphram and there are a few very small pinpoint dings on the cap near the top of the cap. Has a 14k fine nib that writes nicely. $325

Parker (Left to Right)
1. Parker Duofold streamline in coral, great shape with Duofold fine 14K nib. $375
2. Parker Senior Duofold streamline in burgandy marbled. Beautiful pen, Sold
3. Parker Senior Duofold in Black and Pearl, beautiful color, much better than normal! Has a weak imprint, $350
4. Parker Senior Duofold Lucky Curve with large Lucky Curve nib, in green, great color for this pen. $425
5. Parker Duofold streamline in lapis with white highlights. Good imprints, has an arrow nib in medium with a bit of flex. $450
6. Gold Maxima, fine nib, the cap button is not striped, fine nib. Some wear on the cap band. $275
7. Parker Azure Blue Maxima, double jewel version, beautiful color with outstanding barrel clarity, amall name imprinted on the barrel, two tone fine nib, The Azure blue pens are rare Sold
8. Parker Emerald Green Maxima, both end jewells are striped, beautiful pen good barrel clarity with a very flexible 14K medium nib, (See below for more pics) Sold
9. Black Maxima, good barrel clarity, some wear on the capband, but not bad. Fine maxima nib, Sold

---
| | |
| --- | --- |
| | Parker 61 Prototype Demonstration Pen - The first Parker 61. Absorbs ink through the 61 in the end piece. It has a 14K fine firm nib. These are the first experimental attempt at the 61 and were given to Parker employees for testing. Very rare!! Sold |
NEW!! Parker Senior Duofold Streamline - In orange permanite, a beautiful example of this pen. The gold fill on the bands and clip are perfect, very unusual for these pens. Has a large Duofold nib that is firm and fine to medium. Excellent imprint. I'm told that the streamline "Big Red" is actually a bit rare - $425

Parker 75 Florence - One of the most rare of the Parker 75 line, the Parker 75 Florence was made in France for the Italian market. It is solid silver with vermeil (gold plated) appointments. The fountain pen is mint, and comes with box and papers. It has a fine nib and original converter. The ball point came to me separately, and is a cap actuated pen. It has been gently used, but is more rare than the fountain pen.
Fountain Pen $725
Ballpoint Pen Sold

Heath Tribune - This pen is nearly identical to the Parker 16. Heath made all of Parker's overlays and this is a great example of one that is not marked Parker. It has the same size and girth as the Parker pen, but has a wonderful #4 Heath Tribune nib that is medium and very flexible. The color is deep black and the gold fill on the overlay is perfect. The indicia is blank. There are some small scratches on the section where the cap attaches, but that is normal. $550

Parker Maxima in golden pearl, beautiful color, fine oversized nib, The top button is black, the bottom one matches the pattern. There is a little wear on the capband, as you can see in the pic. $275
---
Parker Jotters (From Left to Right) (all pens restored and in working condition)
1. Parker 41 in salmon color with the white and gold fishnet cap. fine nib, rare pen. Sold
2 -5 Parker Lady Jotters in various colors - these are the small version, but take the standard size refill. Blue, black, orange, and gray. All Sold
6. Jotter in yellow - beautiful pen. I think this is an unusual color, if not rare Sold
7. Lady clipless jotter, a metal cap (aluminum?) with very nice metal work. $75
8.-10 Lady clipless jotters with a lattice cap and solid barrel. #8 is a purplish gold lattice with solid purple barrel, #9 is a blue lattice with a gold colored barrel, #10 is a blue lattice with a white barrel. $75 each.
11. Parker 45 in Orange/Red (rare) with a gold filled cap, 14K medium nib, has a converter installed. Near Mint Sold
12- 16 - Parker 45 Coronets in some beautiful colors. The Coronet has an aluminum anodized barrel and are beautiful pens. I have a red (sold) and a brown set (pen and pencil) Sold, Two green (one sold) (#12 is lighter in color than 14), and a blue (sold). The sets are $150, the single pens are $125. All have converters. All have 14K nibs. (From Left to Right)


---
Archives (Sold Pens)

Parker T-1. Beautiful near mint pen, a unique pen made of Titanium that Parker made only one year. I don't believe that this pen has ever seen ink, but it does bear a small mark where the cap has been posted on the barrel, so near mint it is. Comes with the original T1 sticker on the clip. Sold

---
Parker 61 Demonstrator. This is an original, in wonderful shape. Has Demonstrator clearly marked on the barrel, the collector is pristine. Note the small inner cone that covers the end of the pen. Sold and Archived

---
Very rare Parker Thrift-time New in the Box pen and pencil set in Cherry red. This color rarely comes up and this pen belongs in a collection. Never been inked. It appears this pen was a giveaway for a shoe store or possibly a salesman's prize - it has "Buster Brown Shoes" and "Brown bilt Shoes" on the barrel - very small lettering. Beautiful and rare - Sold and Archived

Archived: Parker Maxima Vacumatic with Rare Vacumatic Capband An extremely rare pen, Parker Vacumatic Maxima with the very rare Parker Vacumatic capband. The pen measures 5 1/4 inches, has excellent visibility in the barrel. The nib is fine and very flexible. Writes like a dream and is restored. The imprint trails off at the date end, but shows a 47 and one dot. I understand these pens were made for one year. Some normal wear. Sold and Archived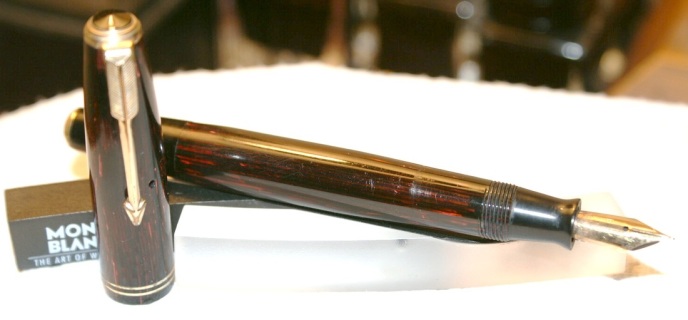 Parker Shadowave in Red
I've always liked the shadowave pen by Parker. The browns show up all the time, green is less common, and the red hardly ever shows up. This one is in really nice shape with good clarity in the barrel, ink window. It has the long blind cap, which makes it a little later than the green one I have listed. It has a standard vac filler that has been restored. Imprint is readable, has a date code of 9 with two dots. Fine firm nib.