Virtual Pen Show.

The care and feeding of a website takes a lot of time and photography. At a pen show, you see a ton of pens all at once and then ask to see it in more detail. I've taken pics of some of my cases and posted them here. If you see something you're interested in, email me at daynix@aol.com and request more info. I'll send you pics, prices, etc. When communicating with me, simply indicate which pic it is (i.e. pic #1, third pen from left, etc) and your question. I'll get back to you asap.



My Top 100 Pen Show Pens
If You'd like more info on these pens, email me at daynix@aol.com
- The round stickers on the pens are my way of noting that the pens have flexible nibs.

Parker (Left to Right)
1. Parker 25 Jack Knife Safety. Beautiful early Parker eydropper, #5 Lucky Curve nib, imprints are present on barrel and cap, faint but readable. $350
2. Parker Senior Duofold Lucky Curve with large Lucky Curve nib, in green, great color for this pen. $425
3. Parker Duofold streamline in coral, great shape with Duofold fine 14K nib. $375
4. Parker Duofold streamline in lapis with white highlights. Good imprints, has an arrow nib in medium with a bit of flex. $425
5. Parker Duofold streamline in burgandy marbled. Beautiful pen, Sold
6. Parker Emerald Green Maxima, both end jewells are striped, beautiful pen good barrel clarity with a very flexible 14K medium nib, $575.
7. Parker Azure Blue Maxima, double jewel version, beautiful color with outstanding barrel clarity, name imprinted on the barrel, two tone fine nib, $Sold
8. Burgandy Maxima set, wonderful pen and a rare color, comes with vacumatic box, wonderful barrel clarity, fine two tone nib, Sold
9. Gold Maxima, fine nib, the cap button is not striped, fine nib. Some wear on the cap band. $275

---
Parker (Cont) (L-R)
1. Parker vacumatic, emerald green flexible fine nib (rare!), matching striped ends, $250
2. Parker red Shadow Wave (it looks black in the pic - it's red :) )fine nib, Sold
3. English Parker Duofold in mauve (very unusual color), med. to broad Parker Duofold nib (N), button filler. Sold
4. English duofold in reverse cracked ice, beautiful pen and color, very flexible Duofold (N) nib, Sold.
5. English Duofold in gold Herringbone, rare color and pattern, Medium Duofold (N) nib, a bit of wear to the metal. Sold
6. Parker 51 window pane, 14K trim, fine nib, wonderful condition, $475
7. Parker T-1 Ballpoint pen, near mint, Sold
8. Parker 61 demonstration pen, has the 61 in the end of the pen - $450
9. Parker 75 Florence - comes with original box, near mint, sterling silver with gold wash (vermeil). $750
10. Parker clouds 61, has an OM/OB nib (rare), mint pen English variant with a Parker converter. Sold
11. Parker Clouds 61, same as above in every way only different pattern. $375



---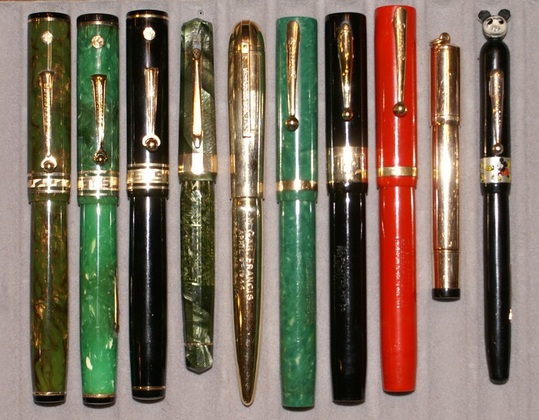 Wahl, Sheaffer, Waterman
1. Wahl oversized greek key in Brazilian green (green with gold highlights. Beautiful and near perfect pen, Manifold nib in fine $475
2. Wahl oversized deco band in green, good color with a bit of darkening, Wahl Nib marked Flexible in fine, nice pen with a rare nib, $450
3. Whal deco band in black (a more difficult to find color) has a signature nib, nice shape. $425
4. Wahl doric in the medium size, has a very rare solid doric band, outstanding near mint barrel clarity, Wahl signature nib, Sold.
5. Sheaffer oversized pen, great color. fine Sheaffer nib, $400.
6. Sheafer oversized pen with 14K clip and trim (both marked) beautiful, has a repaired cap hairline that is nearly invisible, $350.
7. Sheaffer oversized secretary pen, has some teeth damage and a loose clip, still very rare! The nib is also a large 14K marked Sheaffer Secretary. $325
8. Mickey Mouse pen by Rapidograph - beautiful pen - from the 1930s. The clip reads Mickey Mouse, the lever says Walt Disney, and the nib has a picture of Mickey on it. $275

---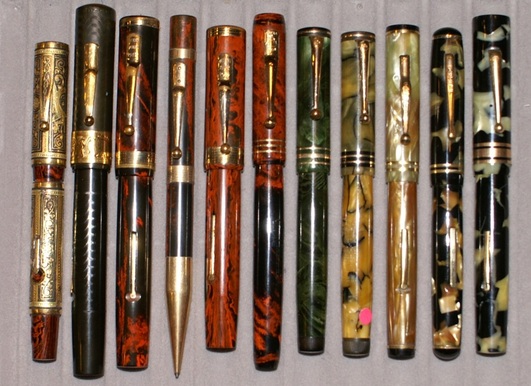 Mabie Todd/Swan, Carters
1. Swan Jackdaw in Toledo overlay, mint pen (some wear to the overlay, but minor). Has a Jackdaw 14ct nib in fine flexible, made in England.
$1750
2. Mabie Todd #8, rare and large pen. Beautiful large cap band, has a repaired cap hairline (invisible) good chasing, large Mabie Todd #8 nib. Sold
3. Mabie Todd Swan Eternal 48 Set in mottled hard rubber, has a bit of metal wear to the capband, otherwise a wonderful pen. Rare in any condition. Has a large #8 Mabie Todd New York Eternal nib in medium to broad. Pencil matches the pen, in working condition. $Sold.
4. Mabie Todd #48 Swan Eternal mottled in the rare short size, near perfect pen, #8 Mabie Todd Eternal nib in medium with some flex, some wear to cap band edge and lever. Very rare pen - $1200.
5. Mabie Todd 44 ETN mottled HR pen with slightly rounded ends (later model?), Swan eternal #4 nib in medium to broad with a bit of flex, really nice condition Sold
6. Swan leverless pen in green marbled (toothbrush pattern?), Swan Eternal #4 nib, some metal wear. $275
7. Swan leverless in a nice black and pearl marbled color, Swan #3 nib in OB with flex, $350
8. Carters pearltex in a rare pearl color, evenly darkened, fine Carter's 14K nib with a touch of flex, $275
9. Carters INX pen, black and pearl, evenly discolored, fine Carter's INX nib, some metal wear. $225
10. Grieshaber oversize black and pearl pen. Has a huge #8 Grieshaber 14K nib in fine with great flex, Chicago. Color and metal trim is nearly perfect. $Sold

---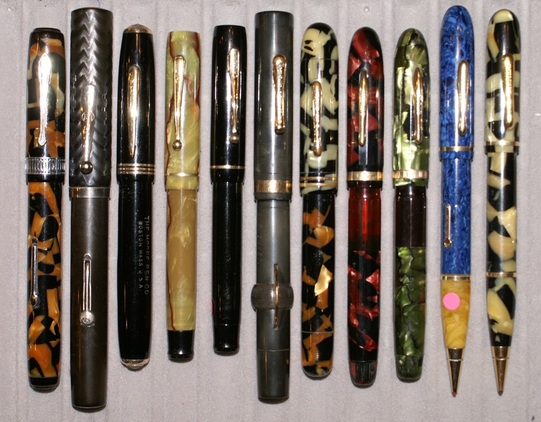 Waterman, Chilton, Conklin
1. Waterman Patrician, black and pearl, evenly discolored, medium Partician nib, $750
2. Waterman 58, the big one, Large #8 Waterman Nib that is fine and very flexible, chasing is worn on the barrel, the number 58 has been obliterated on the end, Sold
3. Moore Pen, nice large size, has a name engraved on the barrel (very small), fine Moore nib, Outstanding condition, $Sold
4. Chilton pen, pneumatic filler, #2 Chilton nib with a bit of flex, great color, $Sold
5. Chilton pen in black, pneumatic filler, nib says Chilton Boston, the barrel says New Jersey, great condition. $Sold
6. Conklin Duragraph, crescent filler (very rare), black hard rubber that is a bit browned, huge Conklin nib, Has a name engraved. $1275
7. Conklin Senior Endura, black and pearl, rounded ends (rare) as you can see, some discoloration to barrel, a bit to the cap, some metal wear, barrel says Conklin Endura, but faint. $375
8. Conklin Nozac in red marbled, #7 size, excellent barrel clarity, mechanism is woking - near mint pen. Sold.
9. Conklin Nozac green marbled, #7 size (numbers on barrel), two tone nib (rare). Working condition. $475
10. Conklin Ensemble in Sapphire Blue. This is one of Conklin's best colors, this pen is near mint, The barrel is engraved "Olson Drilling Company" Sold
11. Conklin Ensemble, nearly perfect black and pearl color, near mint pen. $475

---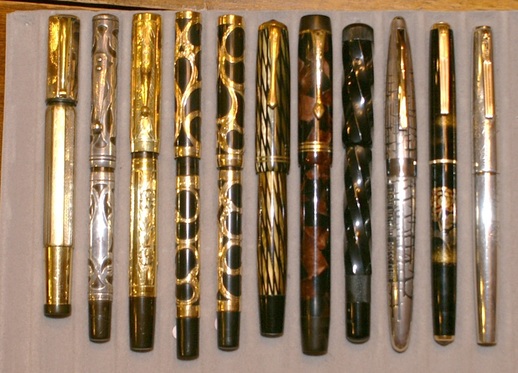 Waterman, Osmia, Pilot
1. Waterman safety with Italian overlay. I believe this is the #42 size, has alternating panels of silver and gold fill, the silver panels have a criss-cross pattern while the gold panels have a leaf motif. A bit of wear to the metal at the cap edge, #2 Waterman nib that is very flexible, some scratches to the smooth metal on the end, $725
2. Waterman 412 overlay, eyedropper, nice pen with some browning to the black hard rubber, $275.
3. Waterman 0552 Pansy Panel, near perfect pen, #2 flexible broad Waterman 14K nib, great shape. $425
4. Parker 16 eyedroper, wonderful condition. #2 lucky curve nib, $600
5. Heath Tribune, 14K Heath Tribune Nib, medium flexible, Heath made the overlays for Parker and many other companies. $550
6. Osmia Platina Supra 76 EF - has a large #6 Osmia Supra nib, beautiful writing pen in a great pattern. Good barrel clarity, piston filler. $Sold
7. Oversised Osmia from the early 1930s. Has an Osmia Supra nib that has a BB nib, burgandy pearl pen. Very rare. The clip is marked Osmia, On the barrel end it is marked Germany and 226. $700
8. Cable Twist Safety pen, very rare in itself. In working condition, the nib has a crown and a six pointed star. In the cap crown is a red cap insert through which you can read A. Deichsel. Research reveals that A. Deichsel owned a cable company in Hindenberg Germany from the late 1800s - the 1940s. This was possibly a gift for his best customers. The maker is unknown, although it bears striking similarities to Montblancs of the time. $800.
9. Pilot Silvern from the 1970s, Winter Wood Version - Marked National Press Club in very stylized script that is a part of the tree pattern on the pen, very striking, fine flexible nib, converter. $650
10. Pilot Super 300 from the 1950s. Signed by the original artist. Sold
121 Pilot Super 300 from the same time, this pen is in a silver metal and has an engraved squirrel pattern with leaves and nuts. Very attractive. $Sold.

---
Montblanc/Soennecken
1. Montblanc lever filler from the 1920s, imprints are present but faint. #4 MB nib, Has some issues but very rare - Sold
2. Montblanc #1 Safety in octogonal shape, rare, near perfect pen. Has a #1 simplo stubb nib, $1100
3. MB 234 1/2 Delux, new cork in great condition. Sold
4. MB 136 transition pen, smooth cap bands, two stage piston filler, short lined ink window, two toned MB nib, beautiful pen, name engraved on cap, $950.
5. MB 134 smaller sibling to the above pen, near mint with clear ink lined ink window, MB steel nib, clip band has been repaired at some point, $625
6. Soennecken 120, largest pen of this generation, large steel medium nib with flex, crystal clear ink window, restored piston filler, Sold
7. Soennecken 111 Extra, largest pen of this era, has the famous "click" piston filler, large Soennecken medium stubb nib with flex, beautiful additoin to collection or a joy to write with. Sold
8. Soennecken 222 Extra, little brother to the above pen, click filler, medium nib with flex, barrel is engraved "Die Reinpfalz" - nice pen. Sold
9. Soennecken 222 Superior in gray snakeskin, a later model, does not have a click filler although it has the same piston system, OM soennecken nib with flex, Sold
10. Soennecken 222 Superior in black, click filler, fine Soennecken nib, Sold
11. Tower Extra, made by Soennecken for the Swedish market, large Tower fine nib , the cap band is engraved "Tower" with a wave pattern. Near mint pen. $525
12. Tower pen, a smaller size, has a business imprint on the cap, two small hairlines in the barrel at the piston that don't impact the operation of the pen, flexible nib. $175.

---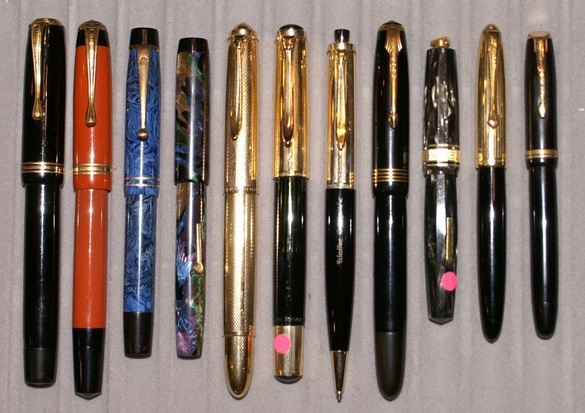 European Pens
1. Penol Senior Size, two tone med flexible nib (rare), button filler. Some metal wear, $300.
2. Penol piston filler in coral, fine flexible penol nib, $250.
3. Onoto pen in Regina blue, restored filler, rare color, $425
4. Conway Stewart ink pencil in Peacock color, really rare scolor, near mint condition, 550.00
5. Pelikan 520N, mint pen with crystal clear ink window - I don't believe its ever seen ink. nice pattern, Sold
6. Pelikan 500 NN set, in black which is unusual, name engraved on both pen and pencil, Fine nib with flex, great barrel clarity. $550
7. Reform pen, piston filler, really interesting clip, clear ink window, very high quality piston mechanism (brass!) $375
9. Omas Extra lever filler, gray lined/marbled pattern, very flexible broad stubb nib, beautiful pen, $450
10. Kosca hooded pen, very interesting small pen. fine nib, button filler $65
11. Gold Starry pen (France) - button filler, medium nib with flex, marked Gold Starry 18K. $55
---
Italian Pens (I'll add fuller descriptions tomorrow)
1. Montegrapa Sold
2. Everest (by Ancora) Sold
3. Aurora Optima, teal marbled with clear barrel, Sold
4. Aurora Green Novum $375
5. Aurora Blue Novum $450
6. Aurora Blue Novum $450
7. Aurora Selene in green lined Sold
8. Aurora Torino $375
9. Aurora Iridia - Out for renovation - having the cap rings replaced.
10. Ancora Dama $525
11. Zemax Vacumatic look-a-like - Sold

---
Mostly French (fuller description tomorrow)
1. Gold D'or Oversize pen, 18K nib, $Sold
2. Edacoto $250
3 Stylomine 18K nib $325
4. Stylomine 18K nib, BHR $350
5. Montblanc 246 $325
6. Gold D'Or 18k nib, Atoma, $Sold
7. Kosca - $75
8. Unic - $175
9. Meteore mottled safety pen, $350

---
11. Parker Coronet,
Coronet sets are $150, individual pens are $125. The other pens on the tray are $100 each. I have only Green and Brown Coronets left.

---
15. Parker Jotters
The pens with stylized caps (rare) are $75 each,the small jotters are sold. The yellow jotter is sold (Orange and Gray mini jotters are sold)

---