Modern Fountain Pens
I don't really collect modern pens, but have ended up with a number over the years, especially the ones the mimic the vintage pens that you see on my other pages. It also seems that I buy or trade for at least one modern pen at every pen show I attend. The Conway Stewarts are really interesting, copying the styles of the past, but usually much larger. Modern Pelikans are also attractive, especially lately as their limited editions are patterned after the Pelikan 100, 100N, and 400N of the 1930s- 1950s. (Note: Click on the picture to see a larger image)
NEW!! Mickey Mouse Pen. Limited Edition # 220 of 1928. The pen is sterling silver and celebrates Mickey Mouse and all the joy he's brought us since his creation nearly a hundred years ago. This pen is mint in its original wod and leather box. Has the two booklets, one a history of Mickey Mouse and the other the directions for using the pen. Medium nib, mint, as far as I can see has never been used. Originally retailed for $900. My price is $250.

1995 Omas "The Cinema" Limited Edition
From 1995, celebrating 100 years of the Cinema, from 1885 - 1995. Beautiful pearl gray marbled celluloid pen with the famous Omas piston filling system. Numbered 1120, this pen is mint and has never seen ink. Medium Omas two toned nib, the pen says "Omas The Cinema 18850-1995 on the side of the barrel. As you can see, comes in its circular tin, with Breakfast at Tiffany's box. More pics on request.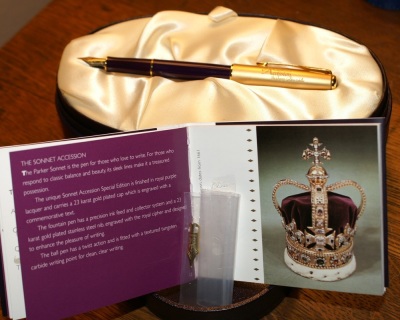 The Sonnet Queen's Accession Pen
This pen was produced by Parker England to celebrate the 50 year Jubilee of Queen Elisabeth. It is beautiful, crafted in purple and gold, with a special engraving to commemorate the event on the cap. It comes with a special nib which also commemorates the event, which is gold plated. I've put an 18K Parker Sonnet nib on the pen, and the original is also included (you can see it in the center of the picture.) This is a mint pen that has never seen ink! It would make a great gift for that special someone in your life. I have two available, one with a medium 18Kt nib, and one with a fine 18Kt nib. It also comes with a special booklet commemorating the Jubilee, pictured above. The Medium is Sold, Fine still available.

New!! Delta Indeginous Peoples - Native Americans. Limited Edition Rollerball - Beautiful and striking pen, new condition in box with papers. This is one of the most striking of the series, one that you'll treasure in your collection or to use. $425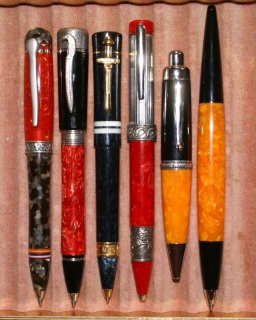 Delta Indiginous Peoples Ballpoint Pens (New, these limited edition pens retailed at $380 each).
1. Delta Maasai, #265/1880, convertible ballpoint pen. Sterling silver hallmarked trim, measures 5.5 inches. Beautiful ballpoint. $250

2. Delta Cossacks, #250/1569, convertible ballpoint pen. Sterling silver hallmarked trim, measures 5.5 inches. $250

3. Delta Tuareg, #75/88, Vermeil trim convertible ballpoint pen (gold fill over hallmarked sterling silver), measures slightly under 5.5 inches. $250

4. Delta Gaius Julius Caesar. #537/999 Sterling trim hallmarked trim with engraved pic of Caesar on the top of cap, horse and chariot on barrel, and helmets around the cap band. Sold

5. Delta Dolce Vita stout, sterling silver hallmarked capband. Comes with two extra refills. Gifted :) to my daughter who loves it!!

6. Delta Dolce Vita desk ballpoint pen. The desk holder has a sterling silver hallmarked band. Very attractive. $185