Italian Vintage Fountain Pens
Italian fountain pens are some of my favorites. Italian pens express the exuberance and life of Italy with celluloids that are some of the most beautiful in the world. They also have some of the most stylistically pleasing pens. I love the Columbus 134. Its design incorporates some of the elements of the Eversharp Skyline and improves on it, adding a balance style barrel and cap with amazing celluloids. The Aurora fountain pens from the 1930s are also some of my favorites. The Olo Lusso is really striking and the celluloid colors are wonderful. If you have Aurora, Omas, Ancora, or other fine Italian pens that you want to sell or trade, contact me. (Note: Click on the picture for a larger image) To purchase, email me at daynix@aol.com!
| | |
| --- | --- |
| | Waterman 42 Italian overlay, alternating gold and silver panels. Nib is a Waterman flexible #2 , the seals have been replaced. Interesting pen and will serve you well. There is some metal wear on the pen, $250. |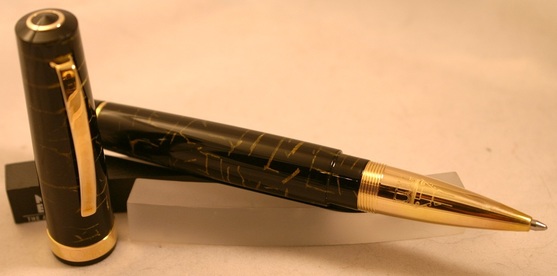 Omas Bologna Roller Ball, beautiful pen in celluloid. New cartridge in working condition. Note that the section is embossed with an arch and colonade of Bologna. A large pen measuring a full six inches long. $450

---
Omas 361 (largest size) with double sided 14K nib that is both firm and flexible, gold filled overlay, almost perfect. Piston filler in working condition. $350

---
| | |
| --- | --- |
| | Ancora Dama pen in black. This is an oversized pen that is in nice shape. It qualifies you for the "Black Pen Society". A great Ancora #5 14K fine nib that has been retipped. Another rare pen. $475 |
| | |
| --- | --- |
| | Radius Pen that is oversized, wonderful condition. It has a Waterman Emblem nib. If it had the original Radius nib it would be $400. The Waterman nib is a very functional replacement $295 |
| | |
| --- | --- |
| | Maryland pen, very attractive brown lined celluloid. It is a button filler with clear ends. It measures 5 1/8 inch long. $150 |
| | |
| --- | --- |
| | Helios pen in brown arco, has a Helios 14K nib in fine with good flex. The cap edge is a bit uneven, but the pen is very attractive and would be a great user or addition to your collection. $150 |
2013 Omas Ogiva Celluloid in Saft Green, comes with box, ink and papers. Saft Green with Rose Gold trim. Very flexible nib in extra fine. Near Mint Sold



Aurora Pens:
1. Aurora Optima from the 1930s. these are exceedingly rare, and deserves a listing all its own. Has a beautiful #6 Aurora nib that writes with a medium to fine fled, 13.2 cm long, excellent barrel clarity. This has a pneumatic filling system that has been completely restored. Sold
2. Aurora Superna in burgandy marbled color with a little fading, but still very beautiful. Has a very interesting lever filler on the end of the pen beneath the blind cap. Aurora 14K # 2 1/2 nib in fine and very flexible. 12.3 cm, Compare the trim on this pen with the Etiopia - very similar. Sold
3. Aurora Iridia. Button filler in a beautiful green lined tortoise color, 13 cm long (large pen). Large Platiridio #5 nib in medium. Missing its cap rings - I'm having the cap rings installed/replaced - so under construction until then.
4. Aurora Novum in azure blue ringed celluloid. Has a large Platiridio #5 nib in medium. The Novum is famous for its end mounted lever filler filling system. $450
5. Aurora Novum in green arco lined, doric shaped, beautiful color. Has an Aurora 2 1/2 14K nib in fine, trim is excellent. Only problem is a hairline on the cap, nearly invisible because of the pattern. It has been stabilizsed but it is there. $325
6. Aurora Novum black oversized 13.5 cm, doric shaped. Large platiridio #5 nib in medium. Excellent trim. Sold
7. Aurora Novum, black doric shaped 13.2 cm with large platiridio #5 nib. Has a slightly different clip and top cap embellishment. $425
8. Aurora Selene in a beautiful green lined pattern. 13 cm, Platiridio #5 nib, strong Aurora Selene imprint on the barrel, beautiful pen. Sold
9. Aurora Cisea pen in blue marble (pretty and rare), very attractive pen. Note the clip that is similar to the Olo, and Novum pens. 13cm, large Cisea #5 nib in fine. The clip has a bit of trim wear, the cap bands are excellent. $325

Aurora, Williamson, Ancora:
1. Aurora silver ringed Olo Lusso. The pen has a large Cisea #5 nib and section (both are marked) in medium with flex. The barrel says Olo Lusso. 13.4 cm long, button filler, some wear to the trim. $225
2. Aurora Torino in Coffee Brown ringed celluloid. Large Platiridio #5 fine nib with excellent flex. No barrel imprint, but the section says Aurora Torino. Silver colored trim in excellent shape - beautiful pen. $325
3. Aurora Olo Lusso in beautiful red ringed celluloid. Beautiful trim and large Olo #5 nib . Pen is marked Olo Lusso on the barrel and has an OLO imprint on the section as well. Sold
4. Aurora Torino in coffee brown ringed celluloid. No imprints on this pen, has a platiridio #5 nib in fine with flex. Perfect gold filled trim. $275
5. Black Aurora Torino pen, strong imprint on the barrel. I was told that this was an Optima that had been converted to a button filler. It has a 14K Minerva nib (Omas product) in fine with flex. Excellent trim and a beautiful pen. $250
6. Williamson oversize pen, gray/brown ringed celluloid, flexible large Williamson nib in medium with wonderful flex, 13.8 cm, button filler. The top capband has a small problem in the back of the cap, but does not impact the operation of the pen. Very rare. $725
7. Williamson pen, 12 cm, brown ringed celluloid, strong imprint on the side of the barrel, button filler, has a Omega fine flexible nib - $275
8. Ancora Lusso from the late 40s, beautiful red ringed celluloid with a gold filled cap. 13.6 cm, beautiful Ancora ef nib with excellent flex, piston filler in working condition. Ancora imprint on the barrel. Sold
9. Ancora Lusso identical to #8 above except that it is the small or "dama' size. 11.5 cm, has a fine 14K Ancora nib, piston filler. Ancora imprint on the barrel. Sold

Nettuno Superba - Beautiful Moss Agate color, silver trim. 18 Ct. nib that is medium. This is a wonderful and very collectable modern homage to the Nettuno brand. Near new condition! Comes with original box and outer sleeve. The box has some wear. $625

Miscellaneous

Italian/French Spiral Celluloid

These are three interesting pens, two are Italian, one French. The top pen is a mint never seen ink "no name" button filler. It is swirled colors of pearl, black, and a hint of tan/brown. The middle is swirled black and gray, a French Edacoto. The third pen is swirled tortoise, a Zemax pen. I thought this pic made an interesting comparison between the three. Consider them individually below.

---

Zemax Tortoise
Beautiful Italian Zemax pen, in swirled colors. This pen is a button filler, has a Columbus Extra steel nib, medium with a little flex. The clip and cap band originally had a silver or chrome wash, it's showing some wear. The sac has been replaced and the pen is in working condition. It is imprinted Zemax on the barrel. 12.8 cm with good girth. $245.

Italian Zemax(?) Mint!
This pen is identical to the Zemax above except there is no imprint on the barrel. The clip and capband are identical as well. The pen has never seen ink and the celluloid is clear and nearly transparent in places. It measures 12.5 cm, so is a bit smaller than the above pen. It has a steel DS Iridium nib, medium with some flex. It is a beautiful pen. button filler with a new sac. $185

French Edacoto Swirl Pen
I thought I'd list this with these very nice Italian pens. In fact, Edacoto had a relationship with an Italian maker at one point in their history. This pen is a beautiful black and silver swirl, has a steel Edacoto nib that is medium with good flex. The barrel imprint is strong and says, "EDACOTO, La Markque De Qualite, Made in France". The clip also says Edacoto, all the trim is near mint. Measures 12.9 cm and has a bit more girth than the largest Zemax above. $195