U.S. Vintage Fountain Pens.
The U.S. fountain pen industry has some of the most historic and significant pens. Makers like Waterman, Sheaffer, Parker, Conklin and others provided the innovation in pen technology that drove the world's ability to write. Waterman developed the channeled feed that eliminated much of the leaking that had characterized pens in the 19th century. Sheaffer came up with the lever filler, and Conklin's crescent filler was a leader in its time. Chilton's are some of my favorite pens, with their very unusual filling system that works flawlessly, even after years of sitting in someone's drawer. To Purchase, email me at daynix@aol.com


Conklin Durograph, very rare pen! This pen is 5 3/4 inches long, has the Durograph imprint that is weak but readable. The nib is a large Toledo nib that is fine to medium and is a smooth writer. It does have a personalization, which is visible in the pic, R.R. Thorp. There is a bit of brassing on the clip, capband is great. $1350
---
Eversharp Doric large size with #9 14K adjustable nib, medium to broad. Very rare cap band, good clarity on the barrel. The filling system is restored and working, a bit of metal wear on the pen cap band - pencil is in working condition. $595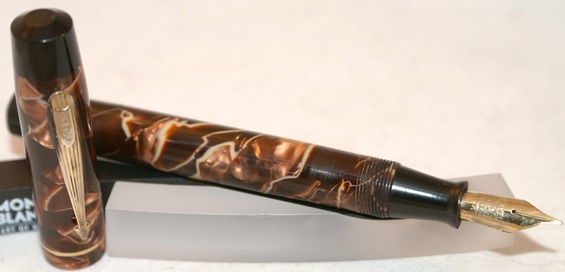 Camel Pen in white lined caramel. I don't know how else to describe the color on this pen. It is amazing. The pen is near mint, in working condition with a new sac. It has a Camel nib that is fine with some flex. $375

---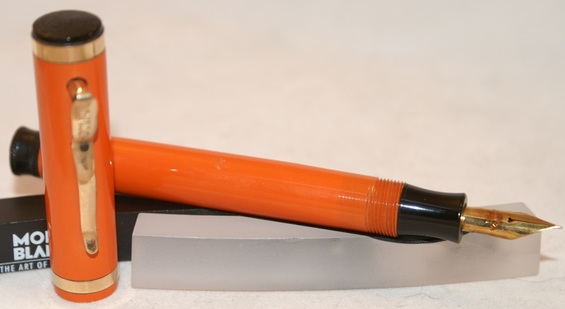 Security Student pen by Kritikson. This is a near mint Security student pen. It measures 5 1/4 inches long with a fine flexible 14K nib. with a strong barrel imprint "Security Self Filling" and patent dates. There is some crazing to the top of the black hard rubber cap - Very rare - $395

---
Chilton Pens - Here's a very nice group of pens with the patented pneumatic filling system. All these pens are restored and in working condition. From left to right:
1. Black and Pearl, large size Long Island pen, very nice condition. Wonderful 14K medium nib $425
2. A standard sized Long Island Chilton in gold and black, very good color, medium chilton 14K nib, Sold
3. Senior sized Wing-Flow set (rare) - Both pen and pencil have HHW letters applied, as you can see in the pic of the pencil. Has a large 14K wing-flow nib that is fine - not much flex to it. Very interesting pattern on the barrel and cap. $1250
4. Cherry Red Wingflow pen, short sized. Has a chilton Boston medium 14K nib, not a wing flow. Nearly mint - Sold
5. Seth Crocker, these came about near the end of Chilton's life, very striking celluloid with a unique filling system. It is restored which is very nearly a miracle. It has a 14K warrented nib, with is correct for this pen. It also has a company imprint on the cap (very small), also correct as these were marketed to companies. $450

Sheaffer Lifetime Flat-Top. The color on this pen is better than 95% of the pens you'll see out there. It is the oversized pen, with large Sheaffer 14K fine nib. The trim is nearly perfect, only two spots of wear on the ball end. $275
---
Sheaffer Secretary loaner pen Cherry Red. These were provided as loaner pens for customers whose pens were being repaired. They are quite rare. This one has some teeth marks in the end of the barrel, a 1/4 inch shallow gouge on the barrel, some brassing on the cap band, and the clip is a little loose. It has a large Sheaffer Secretary fine 14K nib. Not a perfect example, but rare - These usually sell for around $700. My price is $275.

---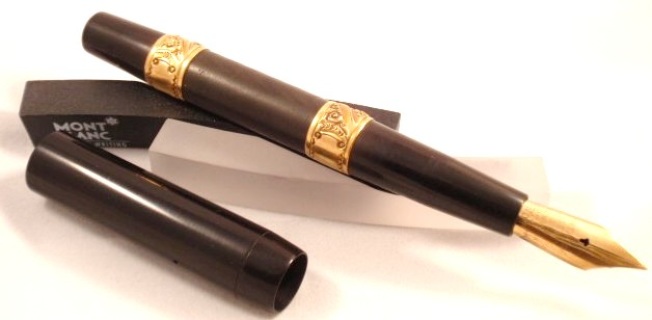 A.A. Waterman 703 - Large Eyedropper (1900)
This is a seriously large pen, with a #7 AA Waterman nib. This is an eyedropper, so no filling system to repair. Two very nice barrel bands in great shape with no brassing. The number on the end of the pen, 703, is clear and strong. The barrel imprint is pretty weak, but readable. It says Arthur A Waterman And Company, N.Y., Not Connected with the Waterman Pen Company (very weak on this last portion). The nib is 14K, fine and very flexible, has the same imprint as the barrel. The ends, section, and cap are smooth black hard rubber, the center between the bands is chased. The chasing is weak. It measures 5 1/4inches or 13.4 cm, has a substantial girth.
Wahl Equipoise pen, in Brazilian Green . Stunning pen in wonderful and rare color. Has a Wahl Eversharp signature nib in extra fine with a bit of flex. As you can see in the pic, there is a bit of darkening near the top of the cap, but the metal work on this pen is outstanding, no brassing anywhere. The nib is the famous Wahl exchange point variety, it unscrews and you can change it with another nib, if you can find one :) The pen measures exactly 5 inches. $375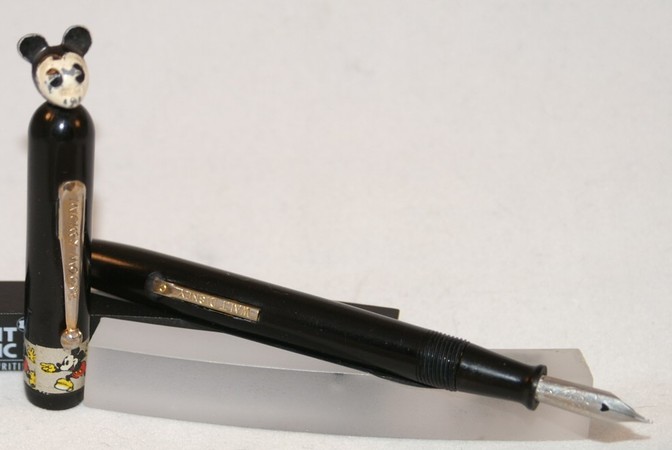 M-I-C-K-E-Y M-O-U-S-E Pen! This pen came to me at the San Francisco show and I couldn't turn it down. Of course you can see Mickey's head on the top of the cap, it also has the three cartoon panels of Mickey running around the cap band, all in great shape. The nib has Mickey's face engraved on it and the lever has Walt Disney. The pen is in great shape. I very gingerly installed a new sac so it is in working condition if someone wants to write with it. This dates from the early 1930s. There was actually another example of this pen at the Denver Pen Show with a magazine advertisement. $195

---
Wahl Collection!
These are some great pens! From left to right:

1. Oversize Brazilian green greek key set, beautiful color, perfect pen! Beautiful large Wahl Eversharp gold seal nib, "flexible" inscribed on the nib - and it is, with a fine tip that will expand to give beautiful broad strokes. The capband has what I've heard called the "rhomboid" pattern. A slight amount of wear on the cap band, hardly visible. Sold
2. Oversize Greek Key, green - barrel has near perfect color, some discoloration on the cap, but far better than 90% of the pens you'll see. Has a large Wahl Eversharp nib, manifold with a fine point. Sold
3. Black Greek Key, black is the most hard to find. It has a beautiful Wahl Eversharp signature nib in fine with some flex. $425
4. Black and Pearl, great shape with even color, beautiful pen. The nib is a Warranted #7 in fine with some flex. The Warrented nibs were found in later pens that had the gold seal on the cap drilled with a hole in it. This pen has not been drilled, but it has the later nib. Sold
5. Black and pearl Equipoise, color is evenly darkened, has a Gold Seal flexible nib that is fine. Sold
6. Wahl Eversharp coral, cap has some hairlines, the nib is a very nice gold seal flexible and is fine. Sold
7. Early oversize Wahl pen, black hard rubber with good chasing, The nib is a Wahl signature nib that is medium with excellent flex. Nice writing pen. $195
8. Skyline, solid 14K, great shape, Medium Skyline nib that is very firm. $600
9. Wahl metal pen, "brains" pattern, beautiful #5 nib that is fine and firm. $250
Mint Conklin All American in the original display box - The All American was the economy version of the Conklin line. This one is a mint version in burgandy and black marbled. Has a very nice medium nib with good flex. The pencil is also in working condition. The clip has a sunrise motif on both pieces. This set has never seen ink, it came out of a Monterey estate. $185

BD Company ASEPTIC thermometer holder in black hard rubber. Thermometer is included and in good shape. $50


---
Parker 51, Waterman, and Conklin Endura
These are some great pens, from left to right:
1. Parker 51 double jewel with scarce heirloom cap and solid 14K trim, nearly perfect pen. Fine nib. $525
2. Parker 51 double jewel in Mustard, Sold
3. Waterman 0552 in Pansy Panel pattern, very nice pen, #2 broad/stub flex nib, Professionally engraved on the indicia, W.V. Kingdon$525
4. Waterman 412, slip cap eyedropper, the pen is only marked 12 on the end of the barrel, $450
5. Waterman 42 1/2 Solid 14K rose gold overlay, safety pen, perfect working condition. #2 medium 14K Waterman nib with flex. Solid gold overlays are very rare. Sold
6. Waterman 52 Red Ripple Medium #2 nib, Sold
7. Waterman CF pen, beautiful silver finish, Sold
8. Waterman Patrician in black and pearl (Nacre), very evenly discolored pen, big beautiful Patrician nib, medium to broad with flex. $700
9. Conklin Senior Endura in lapis, large pen, has a Greg Minuskin OB nib. beautiful color. Some brassing on the cap band and clip. $295
Esterbrook Relief Pen, produced by Conway Stewart in association with the Esterbrook Company. This pen is a #2-L in blue marbled. It has a wonderful nib marked Relief 14ct. 2, Made in England, Esterbrook and Co. The pic looks more gray marbled, but it is blue. The nib is a broad with a slight left foot (OB) with a bit of flex. The trim is in pretty good shape, some wear to the left edge of the clip, but overall good. The lever has the standard Conway Stewart wear. Restored and completely disassembled and cleaned. $150