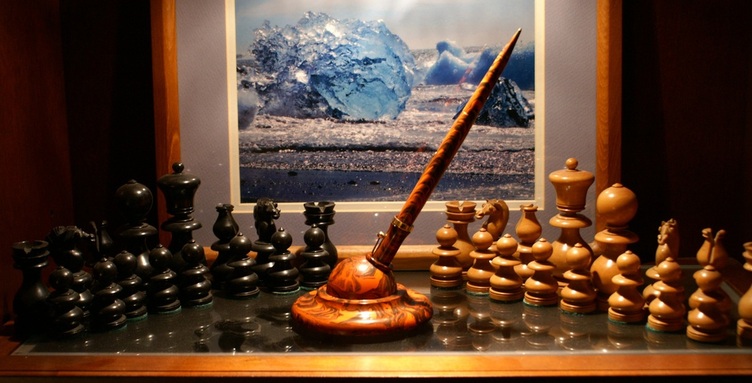 Chess, Guitars, and Other Collectibles - I've collected a number of other favorite things over the years, and I've listed some of them below. Some are for sale, others just to share. The Chess set pictured above is one of my favorites. It is an antique Edinborough chess set that dates from the late 19th century and is made of boxwood and ebony. The picture in the background was taken in Iceland and is a piece of glacial ice resting in the surf on a black sand beach.

---
Tiffany and Company Sterling travel picture locket. This is a beautiful piece that I've had for a number of years. It is a trifold silver locket that folds flat for traveling. As you can see in the pics, it is marked Argent (silver), France, and (most importantly) Tiffany Co. It is also marked with the artists name, O.Roty. I believe it dates from about 1900. The pictures are original and are two very attractive ladies. The ovals are gold colored (probably 14K or 18K) and have mica glass covering the photos. I've never tried to take it apart, so there could be some info on the back of the pictures. It measures 1 3/4 inches in diameter and comes with its original felt sleeve. $1500

18th Century English sterling silver Vinaigrette's (3). These date from 1831 - 1850 and are very beautiful pieces of art. Of course they had an interesting use. They are almost identical to snuff boxes, but have the added feature of the pierced grill. They were used by the elite, often at court, during a time when bathing was not in vogue, in fact was believed to be unhealthy. Strong aromatics were stored in vinaigrettes which would be opened occasionally when odors became too offensive. These are all from Birmingham and have complete hallmarks to date them and attribute them to the silver smiths who created them. They are hallmarked sterling silver and all are gilded on the inside, a beautiful golden hue.

1. The largest measures 1 5/8 x 1 1/4 inches. It is hallmarked E.S. (Edward Smith) and dates to 1835 in Birmingham. The interior hallmark is a bit worn, but otherwise in wonderful condition.
2. 1 1/4 x 9/16 inch. It is hallmarked W.D. (William Davenport) and dates to 1852, also Birmingham. Notice that it has a beautiful scroll work on the front of the case to assist in opening.
3. 1 3/16 x 13/16 in. It is hallmarked N.M. (Nathanial Mills) and dates to 1844, also Birmingham. I understand that Nathanial Mills is one of the most famous of the Birmingham silver smiths and is considered an artist by many. Note the beautiful work on the top of the case. It also has an attractive floral motif on the bottom.

These will probably go to EBay at some point, but I believe they are worth about $2000 as a group.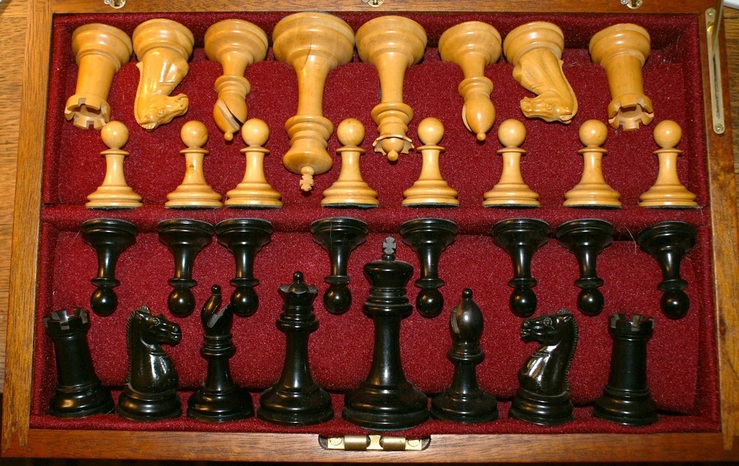 Jacques of London playing set. The pieces are made of Ebony (Black) and another fine light wood. Modern pieces use boxwood, but I'm not sure about the antique sets. The kings measure 4 inches, which makes this a fairly good sized set. This is one of my favorite sets. It comes with its original box, in which the pieces are just jumbled together. I've opted to store them in a specially made padded case to protect the pieces.

---
Jacques of London "In Statuo Quo" Set. This set is a bit smaller and was made to travel. The pieces are locked into the board by a small button, and released when you decide to play. The pieces are made from ivory. The set dates from the 1880s.

Philidor on Chess dated 1777 - In keeping with the chess theme, this is a very old book by one of the early masters of the game of chess, A.D. Philidor. He presents his take on the important themes in chess. Interestingly, they sound very similar to those published by contemporary chess masters. The book is an important piece of history. I believe they were limited in their publication, with this one being numbered #50

Robert Frost - First US national exposure. This is a copy of the August 1915 edition of the Atlantic Monthly in which Robert Frost's work was first published in the U.S. He had already been published in London, but the popular author's work had not received wide recognition yet at home. This copy is in nice condition - a little worn, but its survived two world wars, and 100 years of use.

My Modest Guitar Collection - I play guitar and Bass and have since I was in the 5th grade, at least on the bass. I was assigned the instrument by our music teacher, probably because I was one of the tallest boys in the class :) My favorite guitar is my Mossman, which I purchased new in 1975 and still play today. I've added a Rickenbacker (1970s) two Framus (1960s) and a Warwick Bass, which is the direct descendant of the Framus, run by the son of the Framus founder. The Framus firm was established in Germany after WWII, employing instrument craftsmen from East and West Germany who had previously crafted more classical instruments: Violins, Violas, Cellos and Double Basses. I actually have a Framus double bass as well. The Rolling Stones used some of their guitars during their early years.